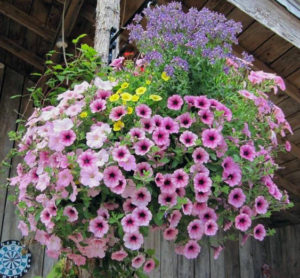 Every year we produce our own flowering baskets, as much as they are time consuming to produce, the results are amazing. We consider our hanging baskets as works of art, and like all beautiful creatures, they require a little attention.
watering regularly is the most important, everyday is ideal
feeding  every week
pruning the leggy plants
say nice things, and be happy around them
Take advantage of some quiet time while you nurture these growing creations. Following the simple tips above, your baskets should last up to first frost.